Doing your first tax return? Here's everything you need to know
Jul 13, 2022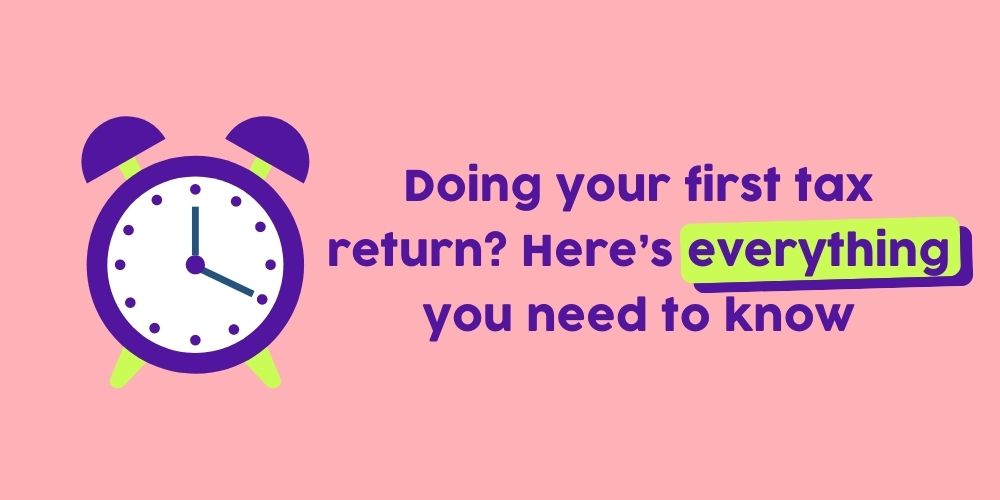 Saying "taxes are confusing" is definitely an understatement, especially when at your first job. I certainly had no clue what was going on, all I knew was money was getting taken out of my paycheck and I did not like it. But the good news is, you actually get some of that money back! You know that feeling when you try on an old pair of jeans and find $5 in your pocket? Getting your tax back is just like that! So here's everything you need to know about doing your first tax return.
First of all - what is tax?
Tax is a portion of your income that's given to the government to help fund public services like healthcare, education and infrastructure like roads etc.
Here in Aus, how much tax you pay is based on how much income you earn. It starts off with what we call the 'tax-free threshold', currently at $18,200. This means you don't have to pay any tax for the first $18,200 you earn throughout the year, and if you earn less than that amount you won't have to pay any tax at all 🥳. The next tax bracket is between $18,200 - $37,000 with a tax rate of 19%. This means you'll pay 19c in taxes for every dollar you earn over $18,200. This follows on and on as your income increases through different thresholds.
Now the good thing is your employer will do all this maths for you. So on your paycheck you should see a small portion taken out for tax each pay cycle. Now if you're in the tax free threshold, you must be a little confused… how is it "tax free" if i'm still paying in every payslip? Well that takes us to the next step.
What are tax returns?
It's not possible for employers to actually know how much money you'll earn over the year, so they do a calculation based on how much money you earn in one pay cycle.
Say you earn $400 one week. Your employer will assume you earn this every week, meaning you should earn $20,800 for the year (putting you in the first tax bracket). However if you're working a casual/part-time job, this is most likely very inaccurate. Especially while you're at school, you'll have weeks where you work one or two shifts, and you might work a bunch more over the school holidays, so it's likely you might pay more tax then you need to! This means that at the end of the financial year you can get… MONEY BACK! And this is what we call the infamous "tax return". Your tax return covers the income year from 1 July to 30 June. If you need to complete a tax return you must lodge it or engage with a tax agent, by 31 October.
How do I do this?
First of all, have a quick look to see whether you need to lodge a tax return using the ATO's online tool. If you don't need to lodge, you still need to lodge a non-lodgment advice, but most likely if you've had tax withheld on any of your paychecks you'll need to lodge a tax return.
There's 3 main ways to lodge a tax return:
Online using myTax
Through a registered tax agent
Paper tax return
I find the easiest way online using myTax cause the government does most of the work for you. You basically just need to log into your MyGov account (or create one) and using your Tax File Number (TFN) they'll do the hard work and you just have to tick some boxes and press some buttons. See here for how to lodge with myTax.
Alternatively you could get an accountant to manage this for you as option two, a registered tax agent, but this costs money and seeing as you're most likely in one of your first jobs, you'd probably rather spend that cha ching on movie tickets or chicken nuggets, and it's not too hard to do it yourself.
Option 3 is doing it by filling out a paper form, but like…#climatechange, so why not save some trees.
But of course, do whatever suits you best!

Does this whole job thing sound pretty cool? Land yourself a casual/part-time role now! See here for some roles that are hiring near you now! Remember to complete your profile and apply!