Get Job Ready, upskill and land a job!
May 23, 2022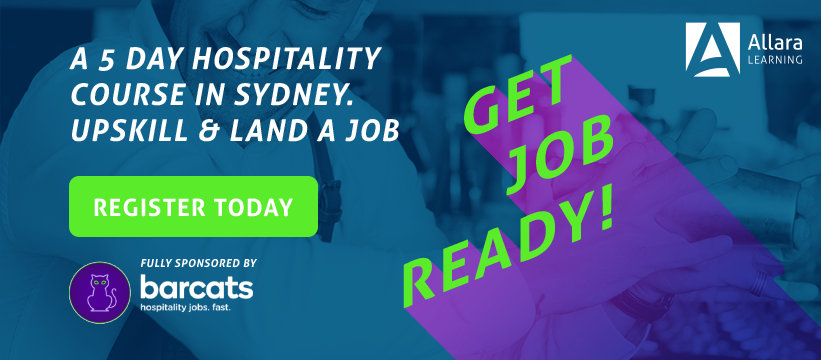 Hospitality is back, and we have jobs galore! Join our courses and land a new gig.
Barcats has 100s of hospitality jobs waiting to be filled across Sydney, right now. To get you Job-Ready, Allara Learning is offering government subsidised hospitality courses with your tuition sponsored by Barcats.
You'll receive 5 days of all-inclusive training at no cost to you, focused on helping you get all the essentials skills and certifications to work a variety of roles.
This course is flexible, so you can choose the course you want to suit your schedule.
Already have your RSA & RCG? Why not add 3 days of hospitality skills to your resume to help land the job you want?
After the course, Barcats will link you to 100s of jobs that suit the work you're currently looking for and the types of venues you want to be working in.
2022 course dates now released!
Begins June 20th - Western Sydney
Begins July 18th - Sydney CBD
Begins August 15th - Sydney CBD
Begins September 12th - Western Sydney
Begins October 10th - Sydney CBD
Begins November 7th - Sydney CBD
Begins December 5th - Western Sydney
Begins December 12th - Sydney CBD
---
You'll walk away with essential industry certifications (valued at $250):
Responsible Service of Alcohol (RSA)
Responsible Conduct of Gaming (RCG)
And other great learning outcomes such as:
Hospitality essentials (how to 3 plate carry, prepare alcoholic and non-alcoholic drinks etc.)
Food safety handling and hygienic work practices
Customer service
Essential bar skills
Covid-19 compliance
& more
Register for an information session below. At this session you will be booked into to one of the above courses. Please book into an info session that is prior to the course you would like to attend.