Monin's Flavour of the Month
May 02, 2022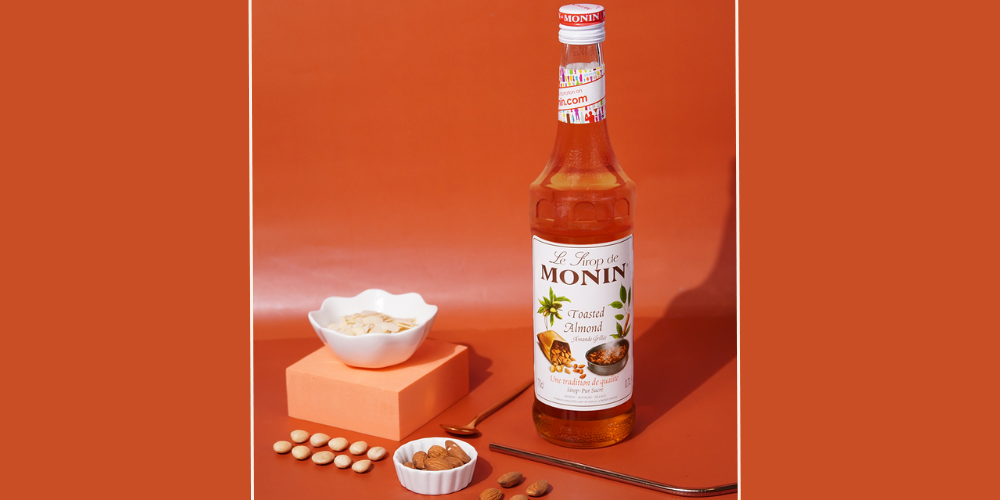 Everything You Need To Know About Almonds
A current archaeological dig found out that about 780,000 years ago, nuts formed the main part of a man's diet. Seven different varieties of nuts were found buried deep in a bog along with stone tools that were used to crack them open. The seven known nuts include water chestnut, prickly water lily, wild almonds, and two varieties of both pistachios and acorns. The water chestnut and pistachios are similar to those found in northern Europe and the Far East today.
The famous Arabian marzipan; a sweet paste candy made from almonds, was brought back from the Holy Lands by the Crusaders in the 11th and 13th centuries. This delicious paste candy is still trendy today. Some of the first almonds were found in China, from where traders transported them as far and wide as they could. The almond tree made its way to California in the mid-1700's, where the industry began to grow and blossom. During the 1800's, the scientific investment and research in the nut expanded, as well as crossbreeding to create new varieties.
Over the years, almonds have maintained somewhat of a position of prestige, having religious, social and ethnic significance. The Romans believed almonds enhanced fertility, so during a wedding ceremony, a handful of almonds are showered on the newlyweds. Who needs confetti anyway?
Best way to consume almonds
Almonds can be consumed raw, roasted, toasted or featured in a culinary creation. Toasted or roasted almonds arguably taste crispIer, drier and contain less fat than a normal almond. Most people prefer the smoked taste to the raw nutty flavour. According to a study done by the University of California, roasted or toasted almonds are easier to digest because of their crisp texture.
Roasted Almonds vs. Toasted Almonds
Roasted means cooking them in the oven, and toasted means cooking the nuts on the stovetop. However, both words are often used interchangeably.
How to roast almonds in the oven: Preheat the oven to 350 degrees Fahrenheit or 176 degrees Celsius. Place the nuts on a baking sheet in a single layer. Bake for about 7 to 8 minutes until fragrant and golden brown (if sliced or slivered), stirring once. Do not stray far from the oven, since the nuts can go from toasted to burned quickly. Remove immediately and transfer to a plate to stop the cooking.
The process of toasting goes as follows: Almonds are added to a frying pan, which has been heated to a medium temperature of below 170 degrees Fahrenheit or 76 degrees Celsius. The pan is moved around continuously to ensure the nuts do not burn and destroy the flavour. The almonds will darken to a rich brown colour and produce a distinct smoked nut smell. After they are roasted, the roasted almonds need time to cool so they can harden to a crisp texture.
Benefits of Almonds
Almonds are considered one of the healthiest foods in the world, with a high source of vitamin E, manganese, magnesium, copper, riboflavin and phosphorus. Although almonds are high in fat, the fat content in almonds is known as healthy because it helps lower the risk of heart disease, heart attack, high cholesterol, diabetes and cardiovascular disease. Other health benefits include antioxidants, improved blood fats, possible weight loss, increased energy, strong bones and prevention against gallstones. Nutrients are the same in both raw and roasted almonds.
If almonds are roasted to a temperature above 170 degrees Fahrenheit or 76 degrees Celsius, it will often destroy the nutritional value. Heating almonds to a high temperature over a period of time can also lead to the development of a chemical contaminant, naturally formed on foods rich in carbohydrates, such as roasted almonds.
Mocha Almond Frappe

Ingredients
30ml MONIN Toasted Almond syrup
1 scoop Le Frappé de MONIN Mocha
120ml milk
Garnish
Whipped cream
MONIN L'Artiste Cocoa sauce drizzle
Almond flakes
Preparation
Add all ingredients into a blender.
Add ice and blend till smooth.
Pour mix into a glass.
Garnish to serve.