Purple Sweet Potato - Drink up with MONIN!
Jun 01, 2022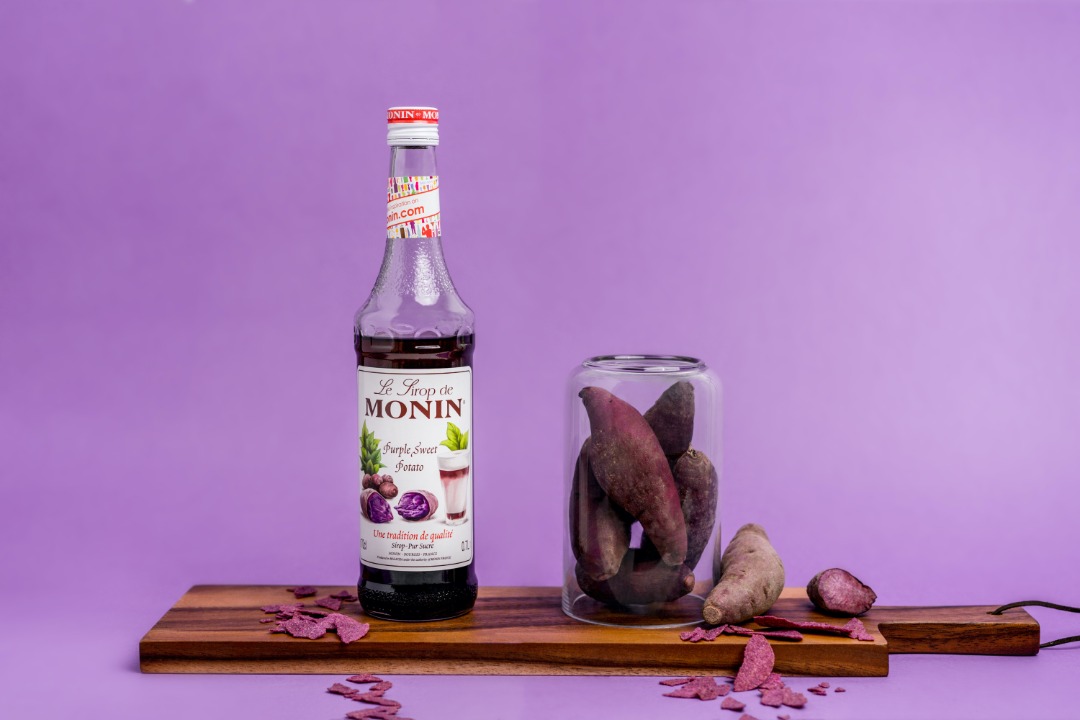 Purple sweet potatoes (sometimes mistakenly called purple yams or ube) are fun to work with and can be used in many of the same ways as the more familiar orange or white sweet potatoes. Though some varieties have white skin, cutting one open will reveal their whimsical eye-catching purple surprise. Popular in some Asian and Latin cuisines, they add a brilliant pop of colour to food and drinks.
What are purple sweet potatoes?
Pretty much everyone has a soft spot for aesthetically pleasing food, so when the internet discovered a purple root vegetable that could be used in cocktails, ice-cream, and even donuts, you better believe Instagrammers were all over it.
Purple sweet potatoes are root vegetables. There are two main varieties namely, Okinawa (white skin) and Stokes (purple skin) but they share the characteristic of having a deep purple flesh. The colour derives from anthocyanins, the same pigment that gives cherries, strawberries, purple carrots, and other vegetables their colour. Fascinating, isn't it? These sweet potatoes are easy to prepare. They're not as easy to find as regular sweet potatoes and are more of a specialty item, so they will cost a little more than your usual ones.
What does it taste like?
The purple-fleshed sweet potato has a slightly sweeter flavour than the regular variety. It's rich, creamy and almost winey in flavour. They are also denser and drier than regular sweet potatoes.
The Sibling Rivalry: Purple Sweet Potato v. Purple Yam (Ube)
Sweet potatoes are grown underground while yams grow on a vine above the ground, though yams do look like a tuber. The two are commonly confused and mislabeled at the market. There are purple varieties of both vegetables.
The purple sweet potato made its way to Japan in the 1600's. Initially planted in Okinawa, the southern island of Japan, they were soon cultivated all over Japan. Purple yam (ube), on the other hand, is native to the Philippines and has a darker, rougher-looking skin that's brown and reminiscent of tree bark. The other difference is that some Okinawan sweet potatoes will have a lavender-coloured inside, but many of them are dark purple, ube.
More Than Just A Pretty Purple Food
Not only does this root vegetable add a beautiful, royal touch to any dessert, but purple sweet potato also has a lot of health benefits.
Sweet potatoes in general are rich in antioxidants. A good rule of thumb is that the more intense the colour of the sweet potato, the more antioxidants it has. They are also good for regulating blood pressure, maintaining weight loss, boosting your immune system, are diabetic-friendly, and super beneficial for your eyesight, skin health and bones. To top it all off, it's one of the best sources of vitamin A.
And guess what? Purple sweet potatoes are a popular superfood too.
Purple Sweet Potato Recipes
We've always been fans of purple, so this purple sweet potato craze is just the rest of the world finally catching up. Try making these beautiful and delicious purple sweet potato-inspired recipes. You won't be disappointed.
1. Purple Lychee Spritzer
Ingridents:
20ml MONIN Purple Sweet Potato syrup
15ml Le Fruit de MONIN Coconut
100ml soda water
60ml lychee juice
5-6 mint leaves
Preperation:
Add all ingredients except soda water into a shaker.
Add ice and shake well to combine.
Fine strain into a glass filled with ice.
Top with soda water.
Garnish to serve.
2. Purple Buzz
Ingridents:
15ml MONIN Purple Sweet Potato syrup
10ml MONIN Liquid Frappé concentrate
150ml milk
30ml espresso
Preperation:
Add MONIN flavourings and milk into a glass.
Add ice and stir to combine.
Gently float espresso on top.
Garnish to serve.