Celebrate National Whisky Sour Day in Style
Aug 01, 2022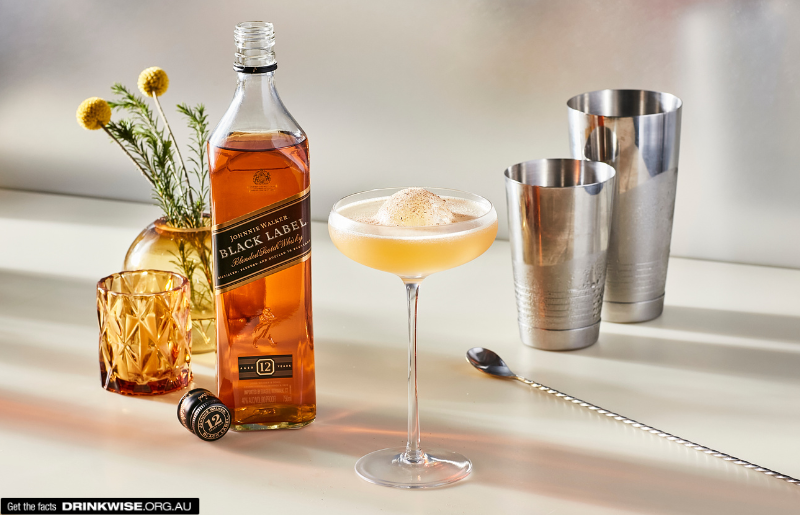 The Sour dates to around 1860 and featured in the first bartender's manual, "How to Mix Drinks" by Jerry Thomas, in 1862. It became one of the earliest single serve drinks to explode in popularity, driven by its simplicity and its versatility. It was defined by containing spirits (of any kind), citrus, sugar, water and ice. (The water originally being added to dissolve the granulated sugar, now replaced by simple syrup).
This results in a world of opportunity to change base spirits, type of citrus, and different sweeteners, to create a near infinite list of Sour variations. Think Tommy's Margaritas, Daquiri's, Southside, this list goes on and on. One thing you might notice as missing from this 1860's recipe that is now commonplace, was the omission of egg white. That wasn't introduced until 1922 when bartender Robert Vermier wrote "a few drops of white of egg improves all sours" *
The silky mouthfeel created by the egg white is delicious but by no means a requirement, so never hesitate to remove it from the formula if you or your guest prefer it that way. If you want to replicate that texture with a vegan alternative, you can always reach for some aquafaba (the liquid from a can of chickpeas) or one of the many foaming agents that are now available on the market. There are plenty of Sour variations that emerged during the pre-prohibition era of bartending, the most notable probably being the New York Sour which was a Whiskey Sour with red wine floated over the top of the drink.
Fast forward to the second golden age of cocktails in the early 2000's and the Sour formula was once again being rediscovered and utilised as a catalyst for creativity. In 2005 Australian bartender Sam Ross created the Penicillin whist working at the legendary Manhattan bar, Milk & Honey. The float of smoky whisky hits the nose with a punchy aroma, whilst balancing with the Scotch, ginger and honey combined in the glass. Little did he know that he'd mixed what cocktail historian Robert Simonsen in his 2016 book "A Proper Drink" called "the most well-travelled and renowned new cocktail of the 21st century."
Now we know a little about how the Whisky Sour came to be, let's mix one up!
Don't miss out on trying all of our Sour combo suggestions, and if you come up with any of your own, please share and tag!
Johnnie Walker Black Label Whisky Sour
The balance of simple syrup, sharp citrus, and a dash of bitters, gives prominence to the unique and bold freshness of Johnnie Walker Black Label.
60ml Johnnie Walker Black Label
30ml Lemon Juice
15ml Sugar Syrup
15ml Egg White/ Aquafaba
Dash of Angostura Bitters
Lemon Zest Garnish
Rocks Glass
Cubed Ice
Method:
Add all the ingredients to your cocktail shaker and" dry shake" without ice to whip the egg white and create the iconic foamy head of the drink. Fill with ice, shake vigorously and strain into a rocks glass filled with cubed ice. Finish with a lemon twist over the top.
Standard Drinks approx. 1.9
Penicillin
This delicious, modern classic takes ginger and honey and blends them seamlessly with Johnnie Walker Whisky, finished with a smoky drizzle of Lagavulin.
45ml Johnnie Walker Black Label
20ml Lemon Juice
20ml Honey/ Ginger syrup*
Float 10 ml Lagavulin 16-Year-Old
Candied Ginger Garnish
Rocks glass
Cubed Ice
Method:
Add the Johnnie Walker Black Label, lemon juice and honey/ginger syrup to your cocktail shaker with ice. Shake well and strain into a rocks glass filled with ice. Layer the Lagavulin on the surface of the drink, using a barspoon. Garnish and serve.
Honey/ Ginger Syrup:
This is a 50:50 mix of Honey water and Ginger syrup.
Honey Syrup: Combined equal parts by weight your chosen honey and filtered water. Stir to dissolve and store in the fridge in a sealed sterilised bottle.
Ginger Syrup: Combine equal parts by weight fresh ginger juice (try your local juice/ smoothie shop if you don't have a juicer) and caster sugar in a pan and heat gently whilst stirring, to dissolve the sugar without allowing the mix to boil. Remove from the heat and store in the fridge in a sealed sterilised bottle. Shelf life approx. 2 weeks.
Standard Drinks approx. 1.76
Food pairing:
The complexity and subtle smoke of Johnnie Walker Black Label, combined with the luxurious texture and acidity created by shaking, will work well pre or post dinner. A Sour will also pair well with meat and charcuterie, Asian style fish and many poultry dishes or even a rich dessert. So versatile!
Give it a try with Satay Chicken skewers or Roast Ham with mustard. If you're serving with dessert, you could even try them with a Ginger Honey cake.
Instagram @diageobarac
Facebook: Diageo Bar Academy
*Source:
Imbibe! – David Wondrich
A Proper Drink – Robert Simonson