Where are you bringing in the New Year?
Dec 28, 2021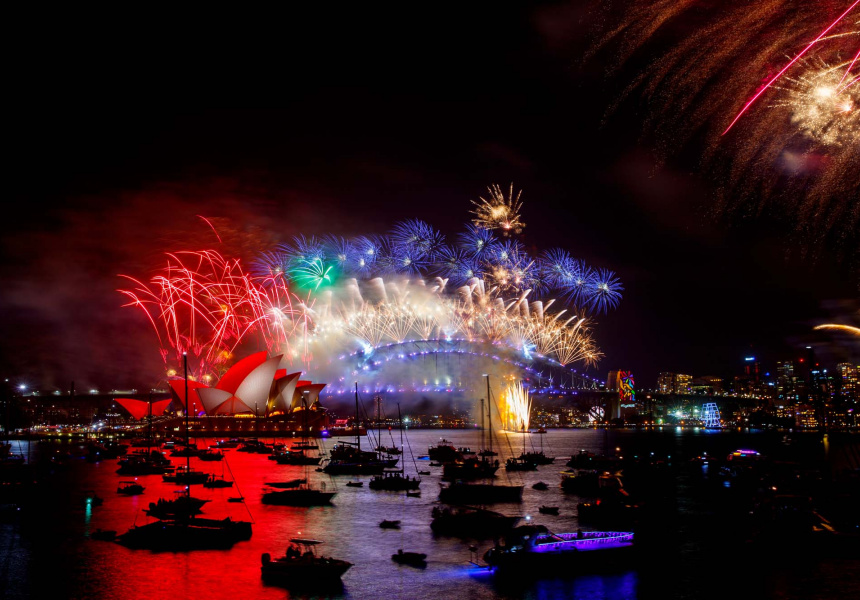 New Year's Eve means something different for everyone – a blow-out of epic proportions, a low-key get-together with mates, or just another night curled up on the couch with a good book and a cup of tea. This year, there's a good chance it'll mean the same thing for most: a chance to put the weirdness of this year (and last) behind us, once and for all. And Sydney's bars, restaurants and public spaces are going all out, with a host of celebrations that'll really see out the year in style. Here's our top picks.
SYDNEY
Cockatoo Island
The Unesco World Heritage-listed site is the only harbour island where you can stay overnight. Make the most of it: eat and drink, take a tour of the island, then finish the year with a live performance by Opera Australia. Deluxe camping options (tent, bedding and seating) are still available, but the prime real estate is running out fast.
Royal Botanic Garden
Not one, but six events are happening within the lush surrounds of the gardens this year. Naturally, you'll be in prime position for the fireworks. But otherwise, your festive choices range from a chilled-out waterside picnic on Bennelong Lawn beneath the Opera House, to a summer dance party with live entertainment at Mrs Macquaries Point. There's a suitable option for every mode, all in proximity to food trucks, pop-up bars and, importantly, loos.
BRISBANE
The Prince Consort
Ready for the ultimate dance party this NYE? What better way to celebrate the end of a long year than a long night of dancing at a massive, multi-level pub with half a dozen bars to drink your way through. Shimmy your way into the new year with The Prince Consort's Good As New Year's Eve Party kicking off at 8pm featuring Bag Raiders and a long lineup of other electro legends.
The Brightside
Dig out your black skinny jeans, whip out your hair straightener and smudge that eyeliner—it's time to embrace your 2005 emo faze at The Brightside's NYEMO. Scream at the top of your lungs to the biggest and best emo hits in two designated music areas and welcome in the new year the sad way with their NYE countdown, complete with stadium confetti blasts. Best dressed wins a $100 bar tab, so you better start planning your grunge 'fit.
MELBOURNE
Riverland Bar
Say goodbye to 2021 in style at this garden oasis located in the historic Federation Wharf along the banks of the Yarra. If you're the type of person who likes to start your New Year's Eve celebrations early, doors open for this event at 7.30pm and the packages are on offer from 8.30pm. Tickets include unlimited beer, wine, bubbles, house spirits and plenty of food to help you get through the night.
The Boatbuilders Yard
This award-winning bar and café on the water of South Wharf is hosting a Miami beach-themed New Year's Eve party complete with tiki cocktails. Tickets come with an all-inclusive drink and food package so you can enjoy unlimited beer, wine, bubbles and cocktails as well as a variety of food options. The party will take place in the expansive indoor and outdoor beer garden, and DJs will be playing all night long.
But if you'd rather be working amongst some of the best venues in the country for a one off shift - Check out the Rockstar shifts right here