Check out the views of Vivid at these awesome venues
Jun 06, 2022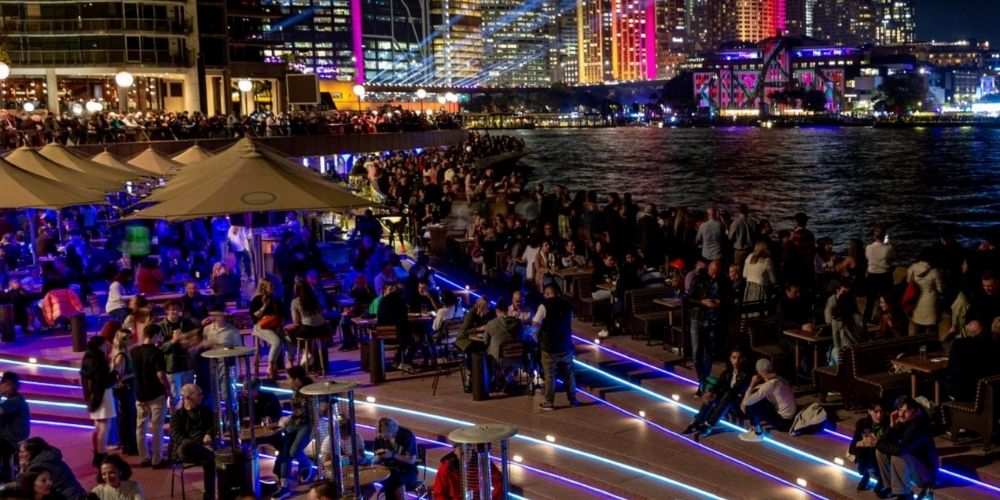 Guys…we don't want to alarm you but there's only 2 weeks left of vivid! The city is bright and there's plenty of great food, drinks and good times to go around. To make the most of vivid we've made a list of some of our favourite spots you must swing by before it's all over!
Into the Blue at Opera Bar
Opera Bar has teamed up with Bombay Sapphire to take you into the blue at this year's Vivid. One of the most perfect locations to view the specular light installations of the Sydney Opera House, Circular Quay and beyond. With live music, cocktails and their waterside photobooth placed perfectly along the sea wall, with Sydney as your backdrop it's an unbeatable opportunity to capture your VIVID 2022 moment at Opera Bar, see details and book in your spot here.
Salt Meats and Cheese
Located amidst all the action, stop by for creative glittery cocktails and Italian eats and enjoy the lit-up skies and panoramic views of Sydney Harbour with a cocktail in hand at Bar Ombré Rooftop. You can even book in to join them for a vivid-inspired cocktail class! See their special menus and book your table here.
Ivy Weekender
In partnership with Vivid, the Ivy is hosting 14 massive parties over 10 days, filling the dancefloor with everything from house, to hip hop, to techno, with a variety of special surprises from VIVID. See details here and lock it in. It's time to light up the dance floor.
Press Play across Ivy precinct
After admiring the vivid lights through the city, continue your evening at one of Merivale's CBD restaurants with a group of 4 or more, and Merivale will shout you a post-show cocktail. Available across ivy precinct after 9.30pm, including MuMu, Bar Totti's, Felix, Ash St. Cellar, Mr. Wong, Jimmy's Falafel and uccello. See details and secure your spot here.
Spritz Bombs Away at United
The streets of Barangaroo's rooftop oasis has spritz bombs availble fro just $13 in 5 different flavours plus more discounted coktails available daily throughout vivid. Choose your flavour here.
Bungalow 8
Check out Bungalow 8 for a delicious dinner by the water before or after your walk through Darling Harbour's lightshow with $15 burger specials! Book here.
House of Hues at Barangaroo House
Enjoy some vivid-inspired cocktails in the warmth of Barangaroo House while admiring the Vivid lights. See more details and book in your spot here.
Want to work at one of the amazing venues above? Check out their available jobs here & don't forget to sign up for job alerts, to know first when they need some extra Rockstar Staff! Sign up for job alerts here.
Merivale venues such as Ivy precinct, see here.
Waitstaff at Opera Bar, see here.
Bar staff at Opera Bar, see here.
Solotel venues, see here.
Salt Meats Cheese venues, see here.
Bungalow 8, see here.