Meet Prakash Chalise from Railway Club Hotel
Jun 14, 2022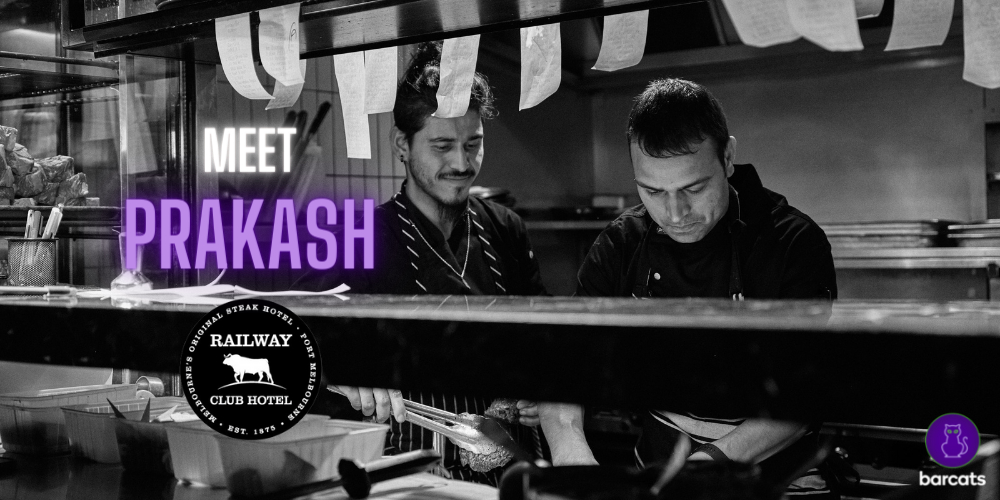 Meet Prakash Chalise, Head Chef at Railway Club Hotel!
Prakash has been in Australia since 2007 and settled with his family in Melbourne. Around this time was when he first started working in a kitchen. He has been with Railway Club Hotel since 2012, starting as a kitchen porter, and has since worked his way up to being Head Chef. "It was here my love for working in hospitality slowly grew." Says Prakash, exclaiming that working at Railway became his true passion, a job he truly loves.
Prakash grew up in a big family in Nepal, community had always been an important value to him - really being there when someone needs support. "Although my role in the kitchen is a little bit different, it really carries the same value. Community and supporting each other is so important, being able to build that community-like connection within your team is paramount."
We asked Prakash some questions about his role and passion for hospitality:
What's the one utensil you can't live without?
"I cook a lot and love to test meals before serving it to anyone, so definitely spoon."
What's your favourite thing to make?
"Dishes that are whole, live and bring real excitement to the person who Is set to experience it."
What do you love most about working for Colonial Leisure Group?
"The strong team formed with qualified and well-educated staff, who really care for each other is what I love about working for CLG. There is a lot of respect built throughout the group, constantly empowering and enhancing team members to grow in their career."
What do you love most about working at the Railway Club Hotel?
"The rich history of the venue and the connection it has within the local community. The incredible team members I have worked alongside during the last 10 years at the Railway Club Hotel."
What do you love about hospitality?
"For me, it is all about creating that unforgettable dining experience day in and day out. Considering each and every element of the experience our guest have from the moment we welcome them through the door and delivering on that consistently."
What's your most memorable hospitality experience?
"After serving almost 500 covers in a day, closing down the section and cutting chips for the next day around 1.30 am."

After chatting with Prakash we discovered that he believes that Hospitality isn't only about cooking, it's the process and experience for customers. After leaving home with an empty stomach only to return not only fully satisfied, but additionally with memories of a warm, unique home-like experience. "Hospitality is not only about running one venue or place, it's the combined effort of hospitality lovers."
Want to work at the Railway Club Hotel? See here for open positions available.
Want to work at other Colonial Leisure Group venues near you? See here for open positions.
Want to work at other amazing venues like Railway? See here for open jobs available near you.