Meet Kayla from Botswana Butchery
Jul 07, 2022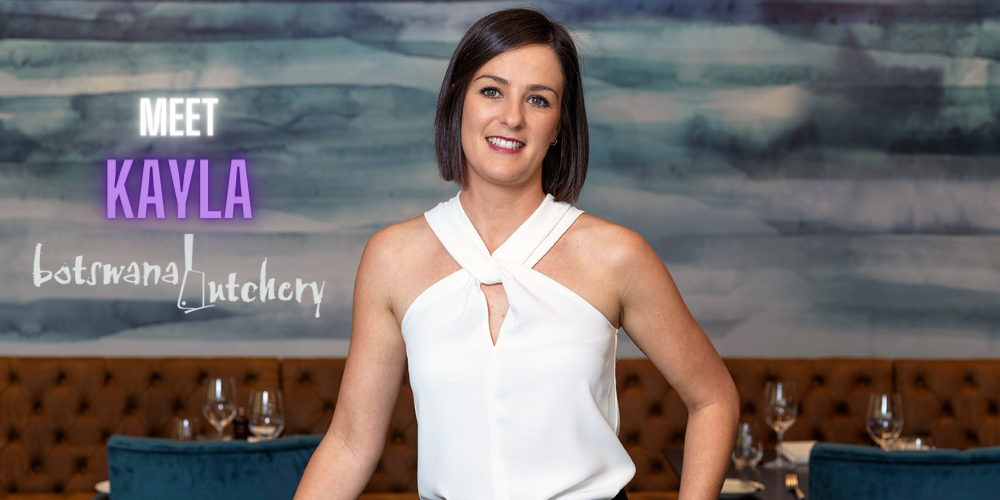 Kayla Mueggenburg is Venue Manager at Botswana Butchery Sydney and is this month's employee of choice nominated by Good Group! Read below about her experience at her workplace and the hospitality industry.
About Kayla:
1. ​Tell us a bit about yourself – how did you get into hospitality?
My name Is Kayla, I am 30 years old and I have been working in hospitality since I was 15 years old. My career started in fast food - I managed a KFC in my hometown of Waihi, NZ for 3 years while I was in high school. Three days after I graduated, I was on a plane to do an OE in Vancouver, Canada, where I spent 2 years. I started my first proper hospo role in Vancouver for a restaurant called Moxies Bar and Grill as a waitress, which I absolutely loved. I came back to NZ 2 years later and worked hospo while I studied for a Bachelor of Media Arts, but the hospo pull was too strong! I moved to Sydney 6 months later and started my management career in hospitality from there - and the rest is history!
2. How did you find yourself in this role?
I moved back to NZ from Sydney 5 years ago from managing fine dining restaurants and applied for a waitress position with Good Group at Botswana Butchery Auckland for a bit of a break. The group COO talked me out of the waitress position and insisted I take the Restaurant Manager role - which turned out to be one of the best decisions I could have made. 4 years later I got the opportunity to move to Sydney and open one of the groups largest venues right in the heart of Sydney CBD - so here I am!
3. Where do you see yourself in the next 5 years?
Ideally, I would like to get into a multi-venue role focussing on venue operations. I'm also very interested in wine production and would love to get more involved in this too.
4. Who inspires you?
My mum! She's one of the strongest, kindest and fearless people I know.
5. What's your favourite thing to make?
Memories! Whether I'm making memories for other people or memories for myself - I can't get enough of It.
About Kayla's employer:
1. What do you love most about working for Good Group?
I would have to say the adaptability, creativity, and innovation within the company as well as the many opportunities that have been presented throughout the years. I also love the people - it helps having a great boss!
2. What do you love most about your current role?
I really enjoy the day-to-day challenges of running a large, multi-level venue and the obstacles and hurdles that need to be overcome each week. I love that every day is different, and I love working with such a huge team.
3. What do you love about hospitality?
I love making people happy - helping them celebrate a special occasion and creating lasting memories of their dining experience.
4. What's your most memorable hospitality experience?
It would have to be this tiny little restaurant nestled on a cliff top in Vancouver. It was all outdoor dining with tables on grass, overlooking the ocean with fairy lights twinkling down. All of the food was organic and grown on site and the wine list was all local - the food, views and ambiance were like something out of a movie!
About the Hospitality Industry:
1. COVID-19 had a huge impact on the hospitality industry. What have been the main challenges for you during the past year? How have you learned to overcome them?
I would have to say managing and organising the venue around an extensive staffing shortage, adapting the venue's capacities and procedures to fit within the parameters of staff we did have and trying to manage guest expectations on top of this. It's been a huge challenge, but we are finally starting to see the light at the end of the Covid tunnel and I for one couldn't be happier to see that light!
2. How can hospitality be made better?
Giving it more credibility from a professional career point of view and from a government visa grant perspective. People treat hospitality as more of a stepping stone rather than a serious career choice. I think shedding more light on the limitless opportunities and career advancements would be a huge help to the industry. Also creating better and more visa opportunities within the industry for talented, dedicated and committed hospitality foreigners to come to Australia and advance their careers in the industry
Want to work at Botswana Butchery? See here for open positions available.
Want to work at other amazing venues like Botswana Butchery? See here for open jobs available near you.