Behind the Barstool : World Class Australia Top 5 Finalists of 2023
Nov 07, 2023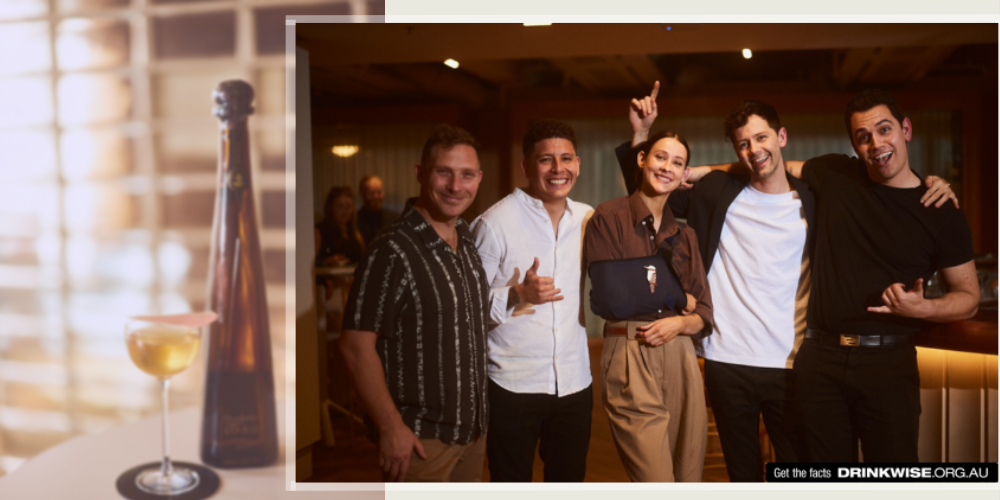 After speaking to Eduardo Conde a couple of months ago, this month we caught up with the rest of this year's World Class Top 5 finalists to learn more about their approach to competition.
Andie Bulley – Creative lead at The Waratah, Sydney
Lachie Gunner – Venue Manager at trap, Adelaide
Alex "Gondz" Gondzioulis – Group Bars Manager Liquid and Larder Group, Sydney
Rohan Massie – Business Development Manager of Rudeboy, Hobart.
---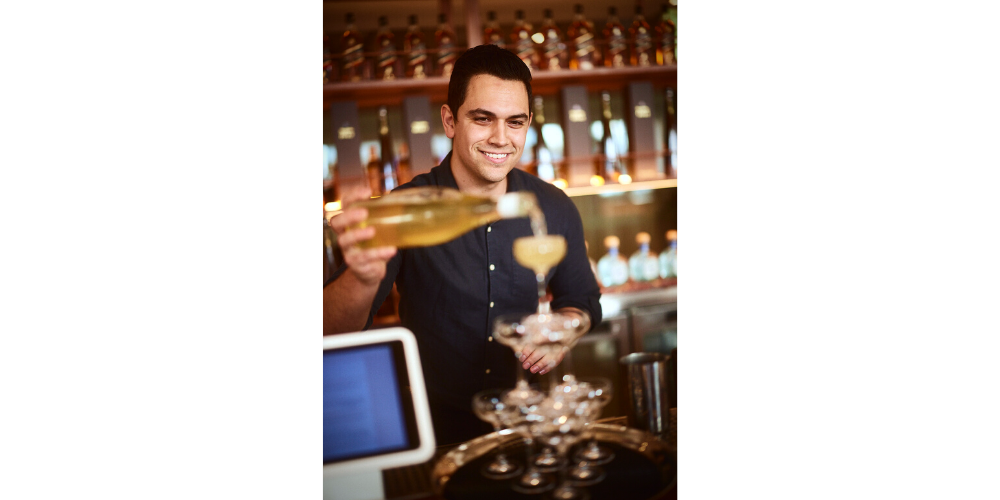 Gondz finalising his cocktail presentation during the second round of the finals.
---
How many times have you entered World Class?
Andie: This was my first time! And I can't believe that I got as far as top 5.
Lachie: 5 or 6 times haha! I've been bartending for over 10 years, and it kind of blends together.
Gondz: First time I entered was 2015 or 2016 and I've entered pretty much consistently since then, excluding the covid years. So, I think that's about 7 times all up?
Rohan: It's been five times. The first two times were really about learning what to enter, particularly for that first round. The 3rd time I was top 25, the 4th was top 100 and the 5th I was top 5.
Why do you enter?
Andie: When I first started at Savile Row, Tim (Speechly) and Jacob (Cohen) were talking about cocktail comps and when they started talking about World Class their tone shifted, they made it very clear that World Class was the bell of the ball and would be hugely beneficial for the career growth of those who got involved.
Lachie: Every single time it allows me to challenge myself and grow in my abilities and then this year helped me further develop my persona, and my presentation style for when competing at that level.
Gondz: Initially I just entered because it has clout! Haha not to minimise it in any way but you know it's the biggest competition for cocktails globally in our industry for people that do what I do. I've always been interested in the creative side of bartending, that's always been the driver and I don't think that's changed over the years. Maybe refined or shifted but it's never not been the driving reason.
Rohan: The Challenge. Creatively, I need something to focus on. World Class is a great one for inspiring us. Two, if you do get down to the pointy end of the competition you get in the green room with people like Eduardo and you get a whole day talking shop. It's very rare that you get in a room with that calibre of bartender for that period of time. Inspiration would sum it all up.
---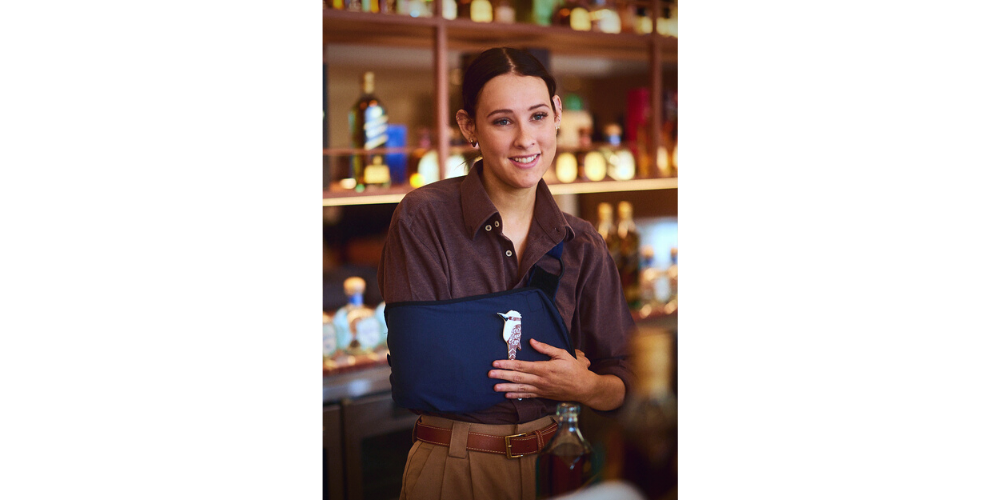 Andie's presentation during the first round of the finals.
---
What was the best thing about the competition this year?
Andie: The support, from other competitors and mentors in my life. More astonishingly from the people I've looked up to in the industry for some time now, which was mind-blowing!
Lachie: The best thing for me was meeting everyone, getting involved and meeting the people of a similar mindset who want to achieve big things and improve themselves. It's one thing for World Class studios but when you get to that top 20 or top 5 it's a whole other level of skill and mindset.
Gondz: It was great to see people I'd competed against previously coming back and seeing how much we've all grown and developed, meeting people and reconnecting with them is always sick. The other thing that was great about this year was comparing my last experience competing nationally which was a top 20 and this year being only 5, it was somehow less stressful, much more well-paced and run. We weren't waiting for as long (between rounds), there were still nerves of course but they were sort of more controlled and manageable. Presenting not only to the 3 judges but also to a small crowd behind them felt a lot more familiar and comfortable.
Rohan: For me it was the inspiration to create Native Connection, to make those connections and do that learning myself. And to be in the room with all those guys and see what's going on with the top levels of the country.
---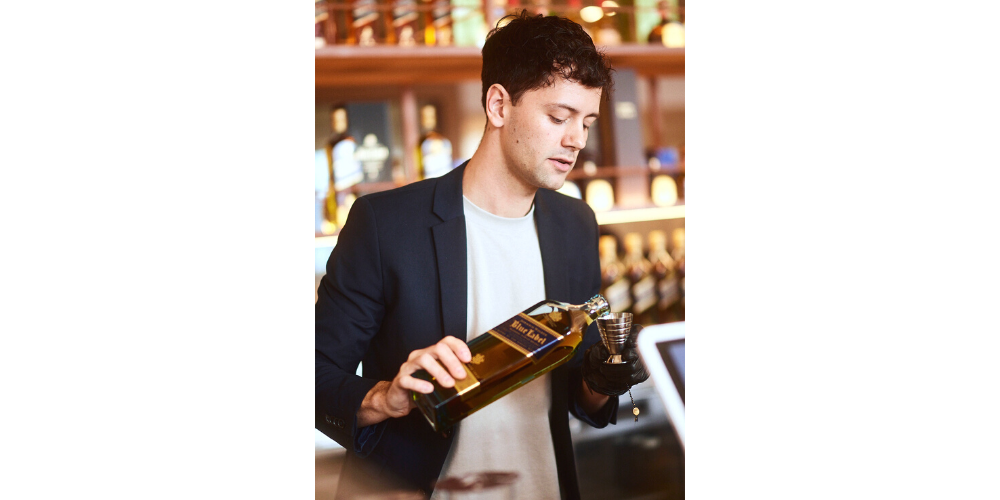 Lachie concorting his cocktail during the finals.
---
What advice do you have for someone thinking about entering for the first time/ who has entered before but wants to make it further into the competition?
Andie: Don't do what you think you should do; do what you care about. When you do things that you're passionate about you really can't go wrong!
Lachie: Create a support group of people who are experienced and who will be a sounding board and be critical of your work and help you push yourself to go from good to great.
Read the rules as well! Answer the questions that are being asked, it's so easy to go too far in the wrong direction and then it's too late.
Gondz: For the first timers, don't think about it, just do it. The worst thing that can happen is you don't get through and you get a bunch of feedback. Absolutely just enter and give it your all.
For those returning, get as many people as possible, not just industry, to hear about your concept, look at your presentation and taste your drink at every stage. Get your bar manager, a new guest, a regular, your mum, anyone who'll try it and give you feedback. It'll help you broaden your approach and not fall into the trap of making a drink for one specific subset of bartenders or industry.
Rohan: There are a couple of levels to World Class. You see people go crazy on the first round and put so many abstract flavours in the drink and it makes it hard to visualise. Particularly for that first round, do things that make sense on paper. Use the more complex ingredients that you have to taste to really "get" for the later rounds (that are conducted in person).
---
All in all, these things can be used for a real community. Ideas should be shared not hoarded. Learn off each other and create a sense of community. If you use creating a community and learning as your first goal whether you make it through to the top 100 or top 5, you're already benefiting. And enjoy every moment of it.
If you want to hear from other World Class Alumni, take a look at this video masterclass with World Class Global winners, Adrián Michalčík (2022 winner) and Kaitlyn Stewart (2017 winner) talking about their approaches to creating world-class cocktails.