Protect Your Super From Financial Scams
Nov 16, 2023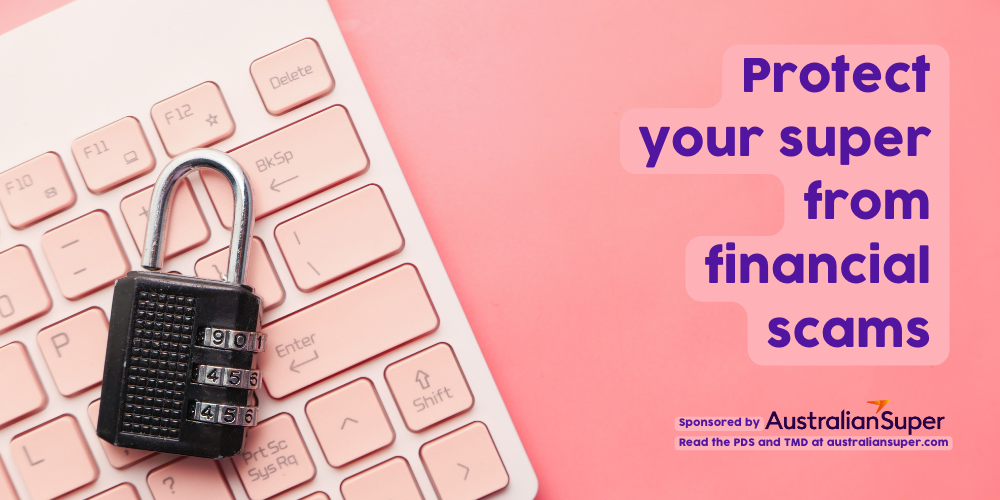 Scammers are getting sneakier and targeting our generation with some really convincing tricks. It's crucial to know how to keep your funds and super savings safe.

In Australia, scams are on the rise, and in 2022, people lost over $3.1 billion to them1. Investment scams make up a big part of that, with your super as one of their favourite targets.
One type of investment scam you should watch out for is the self-managed super fund (SMSF) phishing scam2. Scammers might slide into your DMs or send you an email, pretending to be a financial advisor or from an SMSF. They'll promise you crazy returns if you move your super into their 'fund' and ask for your personal info, which they can use to get into your account.
How to spot a scam:
Scams can come through mail, email, texts, or calls. Scammers also use social media and online platforms to target you. Their messages might look completely legitimate, so be careful about giving out your personal info or access to your money.
In addition to pretending to be from your super fund, bank, or a government agency, scammers might try to get you to:
Click on a sketchy link

Share access to your computer

Provide your personal or financial details

Download a suspicious file
Scamwatch, which is run by the Australian Competition & Consumer Commission, keeps you in the loop on common investment scams.
Want more tips on how to protect your funds and super savings from these scammers? Visit here
---
1 Targeting Scams - Report of the ACCC on scams activity 2022, Australian Competition and Consumer Commission, April 2023.
2 ACCC Scamwatch website – Investment scams, October 2023
This information may be general financial advice which doesn't take into account your personal objectives, financial situation or needs. Before making a decision about AustralianSuper, you should think about your financial requirements and refer to the relevant Product Disclosure Statement available at australiansuper.com/pds or by calling 1300 300 273. A Target Market Determination (TMD) is a document that outlines the target market a product has been designed for. Find the TMDs at australiansuper.com/tmd.
Sponsored by AustralianSuper Pty Ltd, ABN 94 006 457 987, AFSL 233788, Trustee of AustralianSuper ABN 65 714 394 898