Nestle Professional Cheftasker
Nov 03, 2021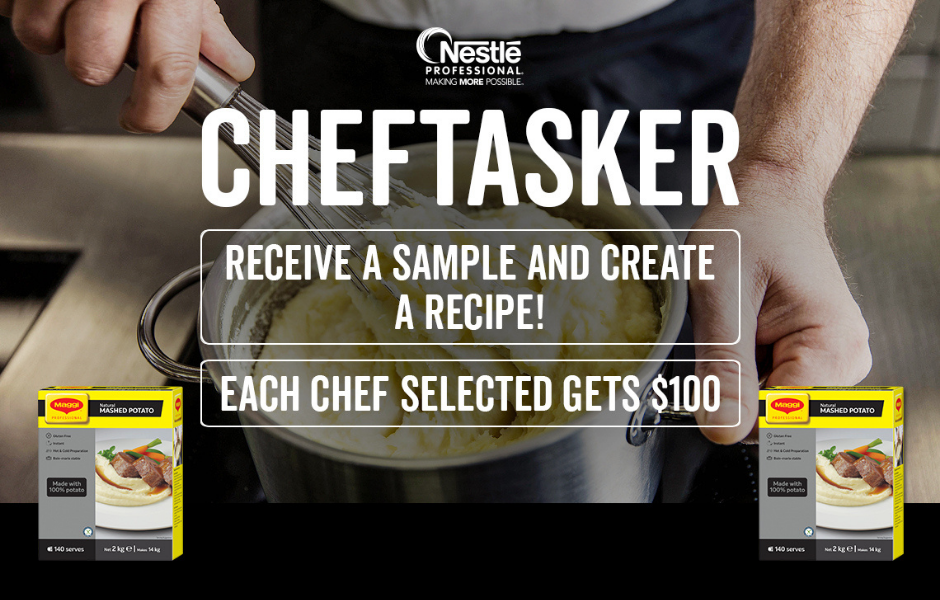 Welcome to Cheftasker - a destination for Australian based chefs to showcase their culinary creativity and get rewarded for it! Sign up now for the November challenge - registrations are open until 12.11.2021.
HOW IT WORKS:
Registration:
Register through bit.ly/CheftaskerRegistration
Tell Nestle why your recipe should be selected for the challenge
They will select up to 40 of the most interesting and creative responses and notify winners by email by 06/12/2021
Round 2:
You will be sent a sample of Nestlé MAGGI Natural Mashed Potato to use in your recipe
Create a recipe using the sample and film a video showing them how you made your creation (click here for some helpful tips on creating your video)
Videos should be uploaded by 11:59 AEST on 03.12.2021
Nestle will review all the videos to ensure they meet their judging criteria (reasonable effort, creativity and video quality)
If successfully verified, you will be gifted with a $100 Prezzee e-gift card
Top 5 Submissions:
In addition, the Top 5 entrants who have the most creative recipes will also win an additional $100 Prezzee e-gift card
These 5 winners will have their recipe displayed on Nestle Professional's Cheftasker Instagram page and Nestle Professional website
All winners will be notified by email by 06/12/2021

Entries are open to AU residents 18+ who are currently or recently employed as a chef within the foodservice industry in Australia.